Web Page, Web Presence, SEO and Sales Success
by Joerg Buyna
In this article I would like to explain and hopefully eliminate a few misunderstandings on the topics of web pages and online success.
The targeted reader is not the one whose website is used mostly as an electronic business card, but rather those who intend to create income through online sales.
So you have a great web site, but what's next? To ensure that you will be found by visitors or potential customers, you want a high ranking in the major search engines as soon as possible. A variety of tools, i.e. SEO (Search Engine Optimization), Social Media, blogging, press releases etc. may lead to the desired success. Maybe...
Let's talk about some things here and get started with the #1 misunderstanding. SEO.
Many people think SEO's main purpose is to reach the highest ranking possible in search engines. But SEO is not only creating keywords and metadata on your web page. Also, repeat them as many times as possible does not result in a higher ranking.
The goal of the search engine optimization.
The goal of SEO is not only to rank as #1. The appearance of entry / text (Snippet) of your website should motivate the visitor, and as a result, to click on your link. The goal is to meet the users' expectation in terms of content consistency between different keywords, text (for example) snippet, and contents of the web page. A good match can be checked by comparing performance indicators, such as number of visitors, views per page and conversion rates. Below is a graphic illustration of a simple SEO strategy.
The SEO Six-Pack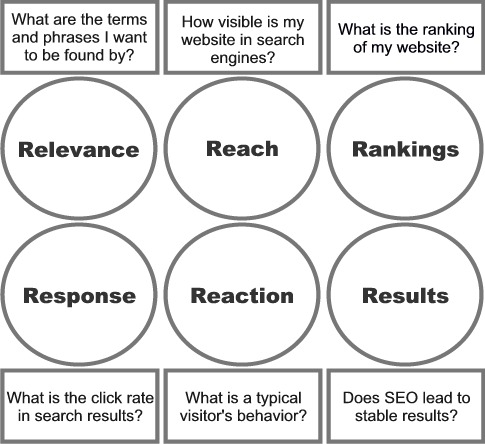 Google or Bing are not the only relevant search engines. You can also optimize for web pages such as Amazon, Ebay, or Slideshare.net (presentations), YouTube (videos), Flickr (pictures) etc.
Relevance - select the correct search terms and topics.
The foundation of any search engine optimization is the research, evaluation, review and extension of the relevant search terms. Based on a collection of your own search terms, and use of keyword research tools, the goal is to get a most comprehensive and least competitive list of search terms.
Reach - how visible are you at Google & Co?
The term visibility is prominent in many search engine optimization publications. But it is just what it is – a term for a concept characterized by the most important SEO tool suppliers.
Rankings - what positions you find yourself with your search terms?
Even if the relationship between Reach and Rankings is very high, I would like to make a distinction here. The simple reason, rankings are the decisive criterion in order to have any chance of a click. The evaluation of the positions by itself – entering your set of search terms on Google and look where you turn up - is not enough. Google alone makes it more difficult by two aspects: Through context and through personalization. The context criteria include, for example, language, country, place, date and time. The personalization criteria include your own search history or your own click behavior. (Yes! Believe it or not...)
Response - How high is the click-through rate in the SERPS (search engine results page)?
A good ranking is a prerequisite for a click, true, but whether users like what they see (snippet, excerpt) or not is crucial to get a click as a result. Under certain conditions, it is possible that position 3 or 4 has a higher click-through rate than position 1.
Reaction - How do users react to search results based on entered search terms?
Strategical measures to optimize the "Reaction" are the information architecture, layout and design, internal linking and conversion optimization. The conversion optimization is increasingly important as Google monitors users and value their behavior as a signal.
Results – is optimization resulting in achievement of set goals and/or economic value?
In the end all that matters are results. But please do not always look at the short-term and immediate results. In a recent Conversion Summit Recap we learned from Mr. Avinash Punekar that 2% of all clicks actually convert to direct sales. Achieving this 2% conversion takes commitment and strategy.